COMPRESSED NATURAL GAS COLOMBIA CASE
SITUATION
In 1998, Colombia had Compressed Natural Gas Vehicle (CNGV) service in 13 stations and 5,000 vehicles. But it required control on the Gas Kit maintenance of these vehicles as they did it in an inappropriate manner without real control, generating insecurity in addition to the high conversion cost. All these issues prevented the CNG from being massive in the country.
CHALLENGE
Controlling Gas Kit Maintenance in Colombia and increase the number of vehicles converted to CNG.
SOLUTION
We developed an innovative system which fully integrates Software, Hardware and Communications for controlling maintenance and credit recollection for the gas kit in Compressed Natural Gas (CNG), covering all entities involved in this process as the CNG stations, CNG distributors, financial institutions and certifiers, being the first and only system worldwide and establishing it as the standard system in more than 1,000 service stations.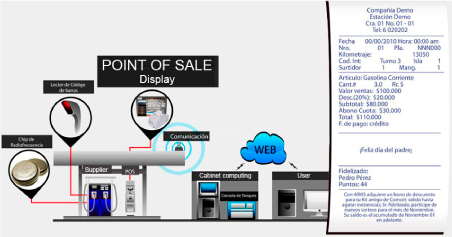 EVOLUTION OF THE SYSTEM
Thanks to the experience gained by the ongoing implementation and development of programs for the mass use of Natural Gas, the product has evocionado since 1999 when the first specialized for automating service stations NATURAL GAS software is created, performed in 2001 one consulting the national government of Colombia where as a result the Colombian Technical Standard NTC 4829 is obtained, in 2004 PERU counseling, which is being implemented in 2005, in BOLIVIA starts with counseling certification and mass NGV is performed 2006, and 2010, which begins with the implementation of the program for mass and use of CNG in the city of Tarija, BOLIVIA; 2013 there have been 320,000 vehicles converted to CNG, and has developed a unique system which controls and manages all entities and processes involved in the programs or projects for the massification of Natural Gas. some of the processes are the conversion transfomación, redevelopment, and maintenance.


KEEPING CONTROL VEHICLES CONVERTED TO GNC

A technical standard that service stations, workshops and certifiers must have in order to control and manage CNG vehicle maintenance was developed in Colombia.
Servipunto (Zencillo) participated in the development of the first version of this standard.
The ICONTEC NTC4829 standard is currently in itssecond edition.
BENEFITS
Confidence in CNGV
When vehicle owners see how the new gas kit's maintenance control model works, they rely on the security thereof and start to convert.
Mass conversion
It allowedowners of these vehicles to convert to a more accessible CNGV form through credit collection for the gas kit in service stations. In 2010, the maintenance of more than 44,000 vehicles was being controlled and more than 430 CNGV service stations had been created.
Reduced operating costs.
Since a single system controls suppliers and identifies vehicles, allowing service stations get all the control and reports automatically.
Improved times
The vendors do not waste time when they end their shift by closing the forms because they press a button and get them automatically. Administrators no longer have to spend time creating and recording data to generate reports.
Added Values
Mileage on the ticket, Gas Balance, Time and day restriction control, Interface with Servipunto loyalty, Interface to Accounting System, Quotas Control, and Management on distributors: Galileo, Aspro, Gilbarco, Compac, Vetrano, Coritec, Pump Control, IMW and Greenfield.
Base Model
It took thesame model from countries such as Bolivia, Peru and now Argentina.
Total Integration
The system integrated Conversion Workshops, Service Station Companies, Service Stations, Government Entities and Banks.